South Europe summit calls for 'fair' migrant distribution
South Europe summit calls for 'fair' migrant distribution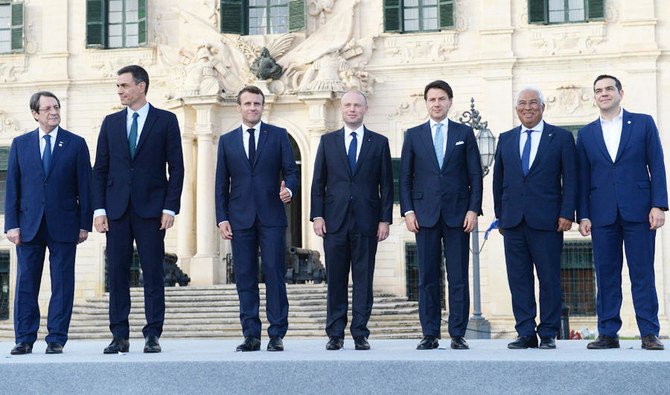 VALLETTA/MALTA, TUNIS: Southern European leaders called for a fair distribution of migrants arriving from across the Mediterranean as the latest NGO boat carrying rescued families was denied a safe port by Italy.
The leaders of Cyprus, France, Greece, Italy, Malta, Portugal and Spain said on Friday the EU should "guarantee effective implementation of the principle of solidarity and fair burden-sharing between member states."
A joint declaration at the end of the summit in Valletta also said "efforts to break the smugglers' business model need to be further enhanced, with the aim to also prevent tragic loss of life."
A day earlier, dozens of migrants rescued in international waters off Tunisia are still stranded 15 days later as authorities refuse to allow the boat carrying them to access a nearby port, the UN said late Friday.
Egyptian tugboat Maridive 601 rescued 75 migrants off the southern Tunisian coast in late May after they embarked from Libya, a key launchpad for sub-Saharan Africans making dangerous bids to reach Europe by sea.
The vessel has been anchored since May 31 off the southern port of Zarzis, where authorities have refused to allow the vessel to dock despite an appeal by the boat's captain.
The UN's International Organization for Migration (IOM) said on Friday that the vessel's owners have since been providing those aboard with food and water.
Tunisian officials contacted by AFP refused to comment on the situation, although an Interior Ministry official said last week, on condition of anonymity, that "the migrants want to be welcomed by a European country."
Humanitarian groups say Tunisia, which has already received several hundred migrants since the start of the year, is reluctant to take on more new arrivals, demanding that they agree to be repatriated before being allowed to enter Tunisian territory.
The IOM said at least 32 unaccompanied minors were on the boat, and offered to help Tunisia host the migrants.
Source AFP
comments